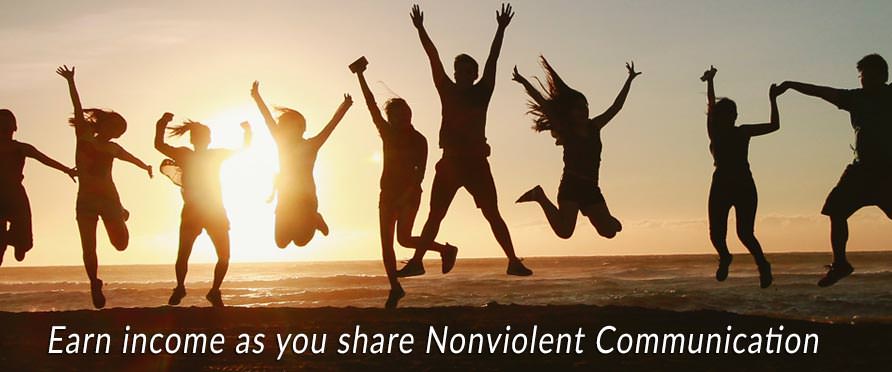 NVC Academy Affiliate Program
About the NVC Academy Affiliate Program
The NVC Academy Affiliate Program offers you the opportunity to
Expand opportunities for people throughout the world to learn practical techniques for living nonviolently so that we can all live more joyfully and fully
Earn money for your causes or for your Nonviolent Communication (NVC) certification journey
Contribute to the sustainability of Nonviolent Communication trainers so that they can continue to offer this work around the world
Be an Affiliate for Nonviolence
As an affiliate, you can help those in your network to:
Reconnect with what they already know about living compassionately
Stay curious about what motivates them instead of judging themselves as right or wrong
Offer people choices that can enrich their lives from a place of acceptance and appreciation for who they are
Feel confident sharing what they believe
Be at peace with others because they can understand their needs and intentions (even if they disagree with other's strategies)
Have constructive conversations across differences that create the quality of connection where natural giving and receiving happen
Bring this quality of connection to all the spaces where people connect, from bedrooms and boardrooms to international discussions
If any of these apply to you, and you are willing to tell people about what is available to them (through whatever media you are comfortable with), and you would like to earn commissions, we believe you will enjoy our affiliate program.
Five Easy Steps to get Started
Sign up for our affiliate program or log in here if you are already an affiliate

Enter your Paypal email address by clicking on Payment Method under Affiliate Info. You only do this step once. If you do not have a PayPal account, you can set one up for free at com

Using your mouse, hover over the Affiliate Info Tab (right of Your Account) to click on "Banners and Links" Click on the Live Courses (20% Commission) to see which courses are available for promotion or click on NVC Library (7.5% Commission) to find your library link.

Copy the links and descriptions for the courses you wish to promote

Paste the links and descriptions into an email, social media post, text, blog post, newsletter, professional development list, or website of your choice and share with your friends, family, colleagues, employees, or other connections
We are happy to help get you started with creative promotional ideas. We make it even easier by sending you suggested wording you can use to inspire people to sign up via your affiliate account a few times per year.
What You Can Earn
Whenever your contacts register for a course or for the NVC Library within seven days of clicking on your affiliate link, you earn:
A 20% event-based commission for gross sales to each person who signs up for the live course using your personalized, affiliate link

Higher commissions for some events

7.5% commission on membership fees for new NVC Library subscribers for the entire period that your connections continually maintain their Library membership
How Much Money Does this Translate to for Me?
We believe so much in the power of Nonviolent Communication (NVC) to transform lives, that we give over half of the regular course revenues before expenses directly to trainers, and we are offering you another 20% for bringing people to this work. 
Here are some example earnings for promoting regular live courses and the NVC Library:
| | | | |
| --- | --- | --- | --- |
| Course / Number of Signups | 10 people | 20 people | 30 people |
| $300-$400 live course |  $600-$800 | $1200-$1600 | $1800-$2400 |
| $600-$700 live course | $1200-$1400 | $2400-$2800 | $3600-$4200 |
| NVC Academy Library (for 1 year) |  $112.50-$135 | $225-$270 | $337.50-$405 |
Will you join us in sharing this great work?
How and When Do I Get Paid?
Every quarter that you earn $20 or more in commissions, the NVC Academy will automatically transfer money to the PayPal account you provide to us. You can enter your PayPal email address under Payment Method on the Affiliate Info tab (found to the right of Your Account).
Is Marketing Pushy?
NVC has enriched many people's relationships and lives. If someone is not interested, you do not have to convince them to pursue it. NVC is all about choice.  As one Nonviolent Communication (NVC) practitioner shared, "I only found out about Nonviolent Communication when I was in my mid-40s. I would have loved to have found out about it sooner!"
If NVC is just what others have been waiting for in their lives, but they do not know about it, that would be a tragedy. So, we invite you to share the opportunity with them and to let them decide whether it resonates with them. This is not about fixing anyone, either; it is about giving others a way of living that can bring them more joy.
About the NVC Academy
Find out who we are here.